Home » What is the Global Tech Experience?
What is the Global Tech Experience?
We talk a lot about "Global Tech…"
…But what is it, exactly? A quick Google search tells us that Walmart uses "Global Tech" as a way to define its team of globally-minded software engineers, data scientists and other professionals who "make an epic impact" and furthers the company's technological innovation processes.
And, in a way, they hit the nail on the head. We define "Global Tech" as:
The technology and intercultural training that is necessary to bridge the workplace skills gap and boost employment opportunities across all sectors.
Even small, regional companies now operate on a global playing field. Nearly every industry requires employees to possess tech and intercultural skills so they might effectively work in diverse teams and build products for global users.
The problem? Only 1.8% of college students gain this global experience by studying abroad each year, and less than 10% obtain an internship that might teach them the "hard skills" necessary for their chosen career.
But there is good news - new approaches to expanding student engagement in global programs have been developed that break down barriers that once limited program diversity. One such program that promotes a diversified class of students is The Global Tech Experience.
So what is The Global Tech Experience?
The name of our program - but so much more. Offered in partnership with select universities, The Experience falls in the intersection of Study Abroad and Internship credit: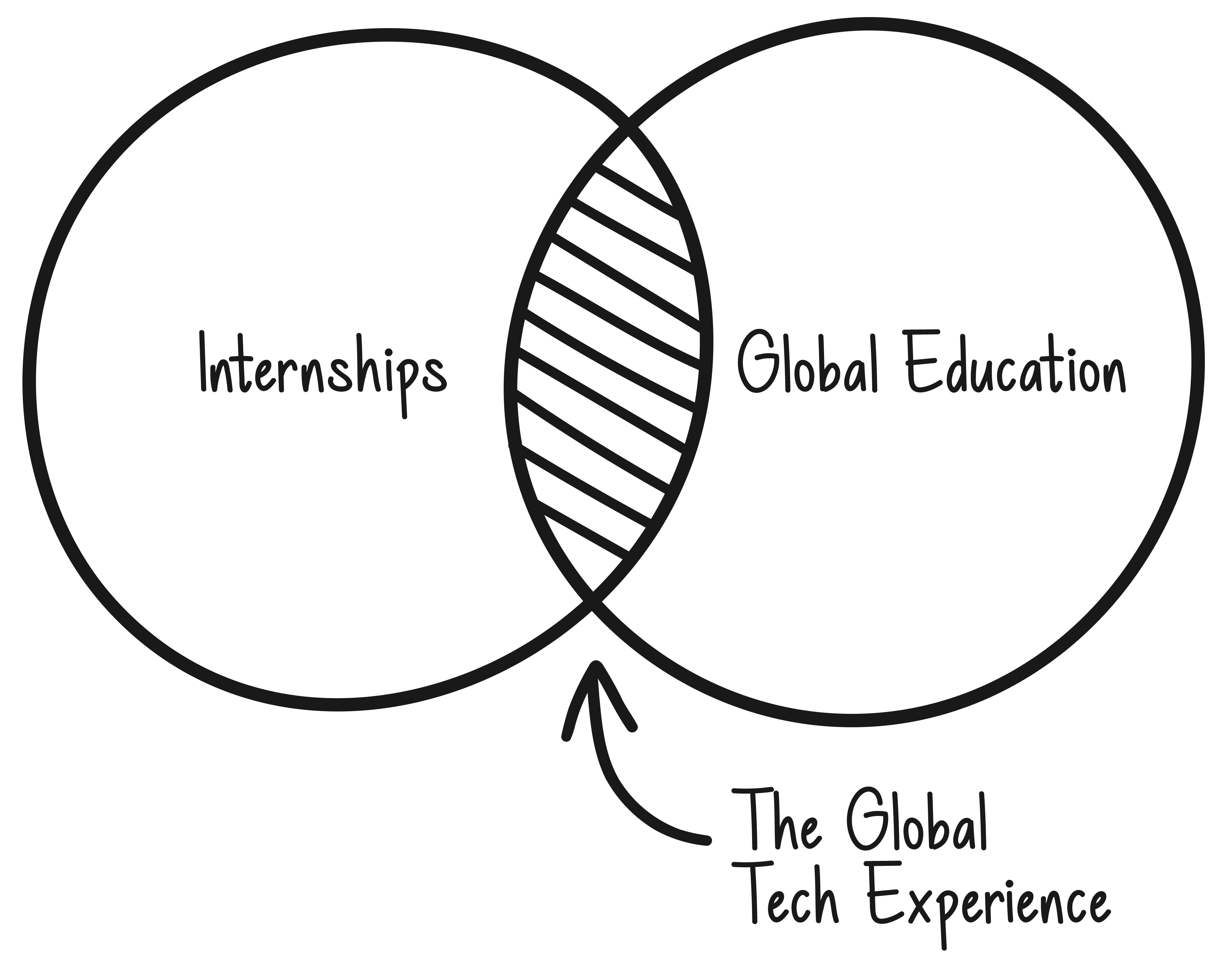 Instead of studying abroad - which may prove difficult for many students during times of financial hardship - The Global Tech Experience brings the "abroad" to the students. This positioning provides the opportunity to be exposed to intercultural ways of thinking, behaving and problem-solving while also gaining the real-world work experience that employers value.
Tech skills are taught through Video Lessons and LiveLab. These formats mimic how one might receive on-the-job experience in an internship for college credit, while also allowing students to work closely with peers from around the world to tackle business problems and improve their communication skills along the way.
Why do I need Global Tech skills?
Nearly every position in every industry now requires basic knowledge of aspects of tech such as:
Data analysis and data science are useful skills for anyone pursuing a high-potential career or starting their own business. Knowing how to wrangle, analyze and visualize data sets is required for keeping a business on top of their goals and meeting milestones. The Data Analytics Track shows students how to effectively use Tableau and Excel, while the Coding for Data Track teaches students how to effectively use SQL and Python to navigate big datasets.

On top of these technical skills, The Experience also incorporates aspects of UN intercultural training. Students learn interpersonal skills such as emotional intelligence, active listening and managing bias - then receive a digital badge for their LinkedIn as proof of their skill after completing a Part of a Track.

The Global Tech Experience is offered in partnership with Podium Education, the leader in developing online experiences that empower universities to prepare students for high-growth careers in the digital economy.
The Experience is offered through Concordia University Irvine.
Contact the CUI Global Tech Experience Team at (949) 468-3190.